Education
---
Universidad Iberoamericana, B.A., International Relations, 2001
---
Arizona State University, courses in Political Science, 1997
---
Universidad Anáhuac del Norte, one semester in International Relations, 1995
---
Andrea Cabrera
Director
---
Professional Experience
---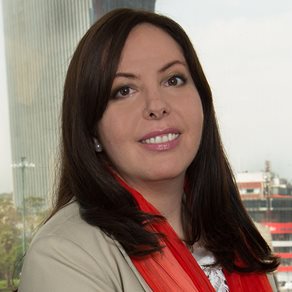 Andrea Cabrera, based in the Mexico City office has years of experience with advocacy across a range of industries in Mexico and a deep understanding of the Mexican government. Andrea has experience working in both the public and private sectors, specializing in institutional and government relations, creating bridges between private and public sectors, and facilitating communications.
Andrea began her professional career in the Senate, where she worked on the Foreign Affairs Committee as a close advisor to Committee Chairman, Fernando Solana, and gained a very good understanding of the legislative process. She later joined Mr. Solana at his consulting firm, Solana y Asociados, where she spent five years increasing her lobbying skills. Andrea then worked for the National Retail Association (ANTAD), where she was head of the legislative liaison department and lobbied to establish negotiating tables between the Association and the Senate as a means to modify and stop the passage of the Bill on Trade Practices, which affected the interests of supermarkets and department stores.
Andrea also worked at the Mexican Institute for Social Security (IMSS), where she was the liaison officer with the private sector. Among her duties at IMSS, she led negotiations with companies such as Liverpool and Wal-Mart to establish an institutional program called Preven IMSS en tu empresa, with the objective of creating awareness among workers to the benefit of healthier lifestyles. At IMSS, Andrea also led the liaison department with NGOs and patient groups. After those accomplishments, she returned to the private sector to head the Government Relations department at GS1México, the business association that began the barcode in Mexico.
Prior to joining Monarch, Andrea was the general manager at the National Association of Household Appliances Manufacturers (ANFAD), where she liaised with various government institutions and modernized their administrative management.